Monday, April 11, 2005
... there are always these.. possessive.. forms that you cannot get rid of...

pemandangan diiluar jendela pesawat adalah sungai yang berkelok kelok seperti pola gerak ular air. sungai yang membelah hamparan hutan dan luasan yang hijau, dalam perjalanan ke nova scotia di kanada.

bentuk sungai itu nantinya terus tampak sepanjang film 'rivers and tides' yang merupakan dokumenter proses kerja dan karya andy goldworthy, seniman dari inggris. goldworthy berkarya dengan alam. batu, daun, ranting, jerami, bunga, lumut, pasir, salju, bongkahan es, kepingan bata...
ia memainkan warna dan material yang dia temukan di alam untuk membuat karya. yang menarik dan secepatnya lenyap. juga karena alam. kayu dan ranting yang disusun sedemikian serupa igloo diatas bebatuan diantara sungai dan laut. yang kemudian ketika pasang datang, karya itu dihanyutkan oleh air laut (atau sungai) seketika itu juga.

oliver yang mengenalkanku pada seniman ini.
sejak akhir bulan lalu, dia bilang kalau dia punya sesuatu yang mungkin akan aku suka. waktu akhirnya kami punya waktu untuk ketemu dan ngobrol, dia memberiku dvd film itu. dengan penuh semangat dia bercerita tentang andy goldworthy dan karyanya, bagaimana dan kenapa...

goldworthy membuat karya dari kerucut es di bongkahan besar batu dipinggir laut. tidak seperti dalam foto dimana esnya melingkar, dalam film kerucut es itu seolah-oleh menembus batu, berkelok-kelok keluar masuk bebatuan dan akhirnya mencuat keatas. ketika karya itu selesai, sinar matahari senja jatuh tepat di kedua sisi bongkah batu dan membuat kerucut es itu berpendar oranye. awesome!
namun tentu saja, sinar matahari yang membuat karya itu keliatan keren adalah juga yang bikin kerucut esnya mencair lebih cepat...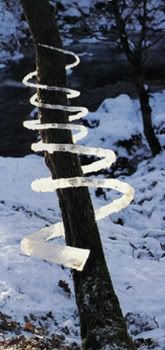 and all of efforts are ultimately going into trying to make something that they did it as effortless...