Thursday, January 05, 2006
"You haven't moved an inch since the last time I saw you, don't you?" Courtney's face is popping in above the hammock in where I was laying down, cradled by the wind. Two hours ago, Courtney mounted the hammock in the facade of his room in Deep Blue Studio, Amed, where we- Wine, Bonnie, Atsushi, Anthony, Waldo and Courtney and I were staying.
I like this hammock very much. It makes me feel like I was in a cradle. I was reading with the strong sea-wind, sound of the waves crashing in the rocks, the blue sea and the grey rainy season-sky.
"It is only me, and the sea." I said to Courtney who is smiling and staring at me with his blue eyes.
We were leaving Ubud before mid-day. Waldo, who had just come home from a party in Kuta early in the morning looked messed-up. He was as enthusiast as the other, though. There are Wine driving in the front seat and Bonnie, who pointed herself as navigator. I was sitting with Anthony and Atsushi. We were renting Pak Gede to bring those boys luggage beside the APV we were in.
Our group formed from a meeting in Jazz Cafe between Wine, Atsushi, Waldo and me, and an advertising agency in Jakarta where Bonnie and Anthony worked. Courtney is friend of Waldo who was coming to Ubud later and joining us after we bumped to each other on the street unexpectedly for several times, almost every night.
Waldo and Courtney working together in the train in Alaska. Courtney was coming from Utah and both of them enjoying outdoor and adventurous activities such as hiking, rock climbing, fishing, snorkeling, surfing plus diving for Courtney. Atsushi is a fashion designer for a casual clothing brand in Harajuku, who live in Tokyo. In his leisure times, he plays guitar and singing in a band, writing songs, snowboarding and surfing. Anthony is an ordinary officer in Jakarta, with almost non-stop ringing cellular phone because of message about work and conversation on clients. Wine teaches arts for children. Bonnie is a project manager in her office, writing stories with her 12-inch Powerbook and having her addiction to scuba diving for a few months now. Whenever we gathered in Bee House, Onet, Bonnie and Wine are my family.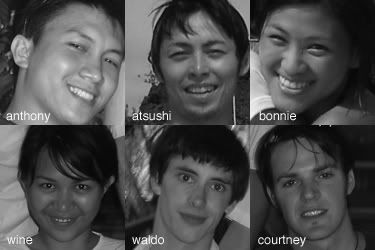 It was during dinner, and after I have reluctantly got off from the hammock that we decided to call ourselves Excuse Me. Atsushi is the funniest man in this group. He always able to make us laugh somehow, and he did it naturally. Yes, Atsushi is a natural born joker. He know when to say things like "Yes, I know, but I don't think so" (this is something that made me laugh when I talked to him), "Thank you!" (Always funny when he said this), "… Peter!" (Cause he cannot say Waldo correctly). But his best is "Excuse Me!" something that he proposed as the name for our band in this trip. Later, Atsushi become a famous star among us with his unbeatable quote "I want more alcohol!"
This will be unforgettable trip for me as I got my swimming lesson in the bungalow's pool. Ever since Waldo and Courtney found out that I couldn't swim, they declare that they wanted to teach me. As usual, the teachers are always more enthusiastic than the student. While we're waiting for Bonnie, Court and Atsushi at Tulamben, Waldo said "Last night, when I looked at the sky, it was written in the sky that you must learn how to swim" Yeah, right! Another way to persuade me to swim…
I don't know what was on my mind when I said OK. Waldo gave me his ear-to-ear smile.
So there I was, inside the pool with Wine, tried to balance myself. I got my hands glued to the lips of the pool. Waldo jumped into the water and our lesson officially begun. He was a good teacher. It was him who assured me that the water is not dangerous. That everything is under control. That I will be able to swim and I'll enjoy it. "I got you! I got you! It's OK! You won't get drowned!" he said that over and over again. His blue-grey eyes fixed to mine when he ask, "Are you OK?" Later, both Wine and Bonnie said that they're touched by the way Waldo teach me how to swim. Well, I'd like to say that I put the swimming lesson in my list as one of the sweetest things a man ever do to me.
Maybe Amed is not in its best performance when we were there. It's been raining for days before we came and it was drizzling when we got there. Maybe that's why the view underwater is not very well. Yes, It was Bonnie, Court and Atsushi who said that. But they don't blogging, I'm the one who told you so. The best thing that I got is the friendship we made, stories we shared and the memories remained...